Tetibe tergatal tangan nak tulis entry pasal hari ibu nih..


memandangkan aku panggil mak aku UMI..
Boleh xaku rename balik event nih??


SELAMAT HARI UMI..
baru ader feel sikit..
mcm2x


UMi aku..
nama HANISAH YUSOFF*glamor kejap umi.
seorg pendidik spenuh masa,
xabis jadi full time teacher kat skolah pastu smbung kerja didik anak kat umah pulak..*sungguh mulia kerjanya


Being a full-time mother is one of the highest salaried jobs... since the payment is pure love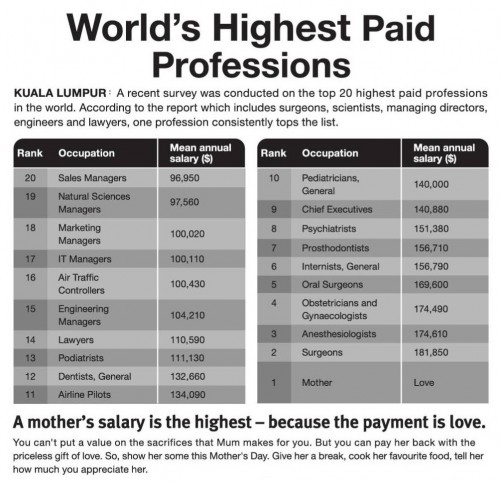 SPECIALITY: menjadi lecturer..sebb asyik duk lecture aku je..
tp tu yg menjadikan AKU orang sebagai mana hari ini..
on 29th nov. 1992 berjaya mlahirkan sorg-sorg nyer ank tunggal perempuan yg seperti tersedia nih
*perasan
ni la gambar umi aku
kenangan ngan umi 2009
so untuk umi yg baca blog nih..
trima kasih melahir kak ngah
trima kasih membesar kak ngah
trima kasih bersabar ngan kk ngah
trima kasih sbb risau kat kk ngah
trima kasih sebab sayang kak ngah
trima kasih sebab bg peluang kk ngah blajar
trima kasih sebab jaga kak ngah
trima kasih untuk sgalanyanya
terima kasih xterhingga
hanya ALLAH je dapat balas smua jasa umi kat kk ngah..
duit bermillion-million pun xdpt balas jasa umi..
luv u umi..
forever.. <3
*sob sob sob
How did you find the energy, Mom
To do all the things you did,
To be teacher, nurse and counselor
To me, when I was a kid.
How did you do it all, Mom,
Be a chauffeur, cook and friend,
Yet find time to be a playmate,
I just can't comprehend.
I see now it was love, Mom
That made you come whenever I'd call,
Your inexhaustible love, Mom
And I thank you for it all.
di kesempatan ini *
skema giler ayat
SELAMAT HARI UM
I juga untuk smua ibu-ibu atas muka bumi ini..
sesungguh nye kalian sgt bertuah kerana bergelar ibu walau bagaimanapun keadaan nya..
The moment a child is born, the mother is also born. She never existed before. The woman existed, but the mother, never. A mother is something absolutely new.
p/s:i love my mom lots coz she is my superwoman!
YOU ARE THE PERFECT BLEND OF A MOTHER AND A FRIEND!
ok rase nyer da cukup le tu..
sekian sajer..
assalamualaikum